News - Kersbrook Equestrian Centre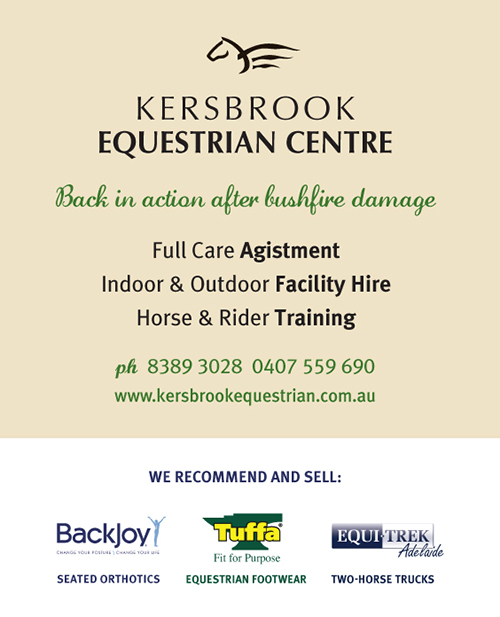 Latest News
Lots of New Year activities and ideas happening here at the Equestrian Centre, and I'm looking for your input. We kicked off the year by raising close to $4.5K for the Pinery Fire Relief Fund with our Horse Health & Training Day on January 2nd. Thanks again to everyone who attended and donated. It was a fabulous day!
Looking ahead, our riding facilities are almost fully operational again after bushfire damage last January and available to be booked for clinics & events.
My lesson schedule is getting pretty full already, so if you would like a regular time please contact me to book a slot. I will continue to make a 'hills round' on Fridays. Please drop me a line if you would like to be on the email mail out for this.
And we finally have all our new fencing complete, so have room for two new Agistment places!
Our schedule for the 2016 Equitation Science clinics with Andrew & Manuela McLean is available under the clinics tab. All welcome.
I also see a place to assist horse owners with Foundation Training for their young/green horses and would like to offer a program that takes horses from first handling to establishing training under saddle. We could meet once a fortnight, or thereabouts and culminate with the Foundation Training Day with Andrew McLean in August. Please let me know if you're interested in this and we'll make a start.
Leanne Bruggemann will be with us fortnightly on a Thursday for showjumping lessons throughout 2016.
And don't forget, we also have Freshman's Showjumping here once a month too. They have a FB page 'Kersbrook Equestrian Freshman's Showjumping' for details & entries. Proceeds of this will go towards upgrading our jump equipment.
I am also interested to know if someone or a small group would like to get an 'Encourage Dressage' schedule up and running for a Sunday, monthly?
We will also continue with lessons from Denise Rofe, on the opposite Thursday to Leanne.
If you have any other ideas or suggestions please let me know. Somewhere in there, I might also find time to get my own horses out and about!!
Happy riding...
Nicki Stuart